The cost of driving lessons with Antonine Driving School...

The cost of driving lessons is relatively steady across most driving schools in the Glasgow area. At Antonine Driving School , our aim is to deliver quality driving tuition at a fair and competitive price. Our price list reflects the quality of our teaching.
Driving Lessons:
| | |
| --- | --- |
| Duration | Cost |
| 1 hour | £34.00 |
| 1 1/2 hours | £51.00 |
| 2 hours | £68.00 |
Please note: We also run with a Special Offer for new Learner Drivers. Check it out through the link below and see if it's something that you'd be interested in.
On an ongoing basis, we also provide discounts for block bookings , as well as savings on Gift Vouchers .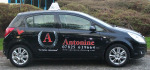 All our lessons are delivered in a safe dual-controlled, 5* EuroNCAP rated car (Vauxhall Corsa), with a manual-controlled gearbox, by a DSA registered Approved Driving Instructor (ADI), to promote an enjoyable , but controlled learning environment, where learner safety and confidence is paramount . (Please have a look at our 'Why Pay for Lessons?' page, which details all the benefits of learning to drive with an Approved Driving Instructor via a professional Driving School, like Antonine).

For those who have just passed their driving test, or have had their licence for a while but haven't had the opportunity, or the confidence, to use the motorways we offer lessons on motorway driving, both as a stand-alone 2-hour lesson, a series of 2-hour motorway lessons or as part of the Pass Plus course.
Prices for individual 2-hour motorway lessons are detailed below.
Motorway:
| | |
| --- | --- |
| Duration | Cost |
| 2 hours | £70.00 |
Pass plus courses have been introduced by the DSA (Driving Standards Agency) in order to give new drivers an opportunity to gain extra driving experience on a variety of roads and in various driving conditions. This course also has the added benefit of qualifying drivers for a reduction in car insurance costs .
Please also see our Pass Plus page for more detailed information on the purpose, content and benefits of taking the full Pass Plus course.
Our price is detailed below for the complete Pass Plus course.
Pass Plus:
| | |
| --- | --- |
| Duration | Cost |
| 6 hours | £220.00 |

Antonine Driving School also offer semi-intensive courses , when pupil volume allows, making use of the block booking discounts that help reduce the overall cost of driving lessons. The availability of semi-intensive courses is, however, determined by existing pupil volume and may not be available when pupil volume at the School is high.
We also offer refresher courses. This can be a great way for people who have not driven for a while to gain a bit of practice with an instructor, in a safe environment, before going it alone on the road.
Prices and availability of Semi-Intensive and Refresher courses are available on request though our contact page . Please call us to discuss, if these courses seem more suitable for you.
Antonine Driving School offer block booking discounts on driving lessons to help with the cost of developing this lifelong skill, as well as gift vouchers that make excellent presents for those looking to learn to drive.
If you are interested in booking driving lessons, treating someone to a gift voucher of lessons, or have a general enquiry, feel free to contact us .
Prices correct as of October 2022. Please note that all lessons are bound by
Antonine Driving School Terms and Conditions .
---
Antonine Driving School , for a DSA Approved Driving Instructor.

Please click on the DSA logo below to see the DSA's advice on 'choosing a driving instructor'.

Return from Cost of Driving Lessons to the Home Page