Pay for Driving Lessons - Why?

Why pay for driving lessons?
Taking driving lessons with a relative or friend is surely a more cost-effective way to learn to drive. But it's not a particularly safe, or enjoyable, way to learn.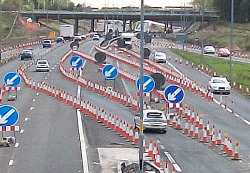 In 2008 , there were 2.688 million vehicles on Scotland's roads, and there were 15,576 casualties due to road traffic accidents. Learning to drive on today's roads, with the level of traffic we have and, what seems like, continuous roadworks and contraflows, can be very stressful for learner drivers. It's really busy in our built-up areas: traffic coming from all directions and everyone in a rush to get where they want to be. Though it's great to have the independence and convenience that a driving licence brings, it's often intimidating to learn.
Learning to drive can be a positive experience, that's both safe and enjoyable. (See our driving lessons page to judge for yourself). Being taught to drive by a relative, or friend, can increase the stress level of both the learner and the teacher, taking away the fun of learning to drive and making it a chore for both parties that can be unsafe. But, it is cheaper.

To pay for driving lessons with a driving instructor isn't cheap , but there are so many benefits that, for many people, the cost is worth it .
The Benefits of Learning to Drive with a Driving School.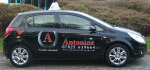 For many people all the above benefits mean 'safety', as well as 'value for money', making it worthwhile to pay for driving lessons. Scotland's roads are getting so busy that it's much safer to be a properly trained driver when you're out there.
It seems so obvious that we would never expect a doctor to practice medicine without the proper training, because they have a responsibility to us, their patients. And a good employer puts proper training in place when their employees have to operate machinery as part of their job, because they have a responsibility to ensure the safety of their employees.
We, as individuals, have a responsibility to ensure the safety of ourselves, our passengers and the general public when we drive a machine the size of a car. In the best interests of everyone, maybe the most responsible way to learn to drive is to pay for driving lessons and get proper training.

Learning to drive with a school of motoring has all of the above benefits. For many people, these benefits balance the cost in money. Antonine Driving School focus on teaching learners to drive safely and skillfully. Take a look at how we structure our lessons , have a look at the content, and judge for yourself whether we deliver value for money. We're confident you'll agree that we do. And that's what makes it worthwhile to pay for driving lessons.
If you have any queries, please contact us . We'll be happy to answer any questions.
---
Antonine Driving School , for a DSA Approved Driving Instructor.

Please click on the DSA logo below to see the DSA's advice on 'choosing a driving instructor'.

Return from Pay for Driving Lessons to the Home Page