For info. about driving, driving lessons & the UK practical and theory tests.
Welcome to Antonine Driving School
for driving lessons at a fair price.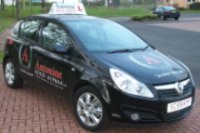 Antonine Driving School offer driving tuition, with a DSA Approved Driving Instructor, to learner drivers in the Cumbernauld and Glasgow North area. We deliver reliable, professional driver training, teaching learner drivers how to drive safely, defensively and skillfully.
From our Cumbernauld base, we deliver lessons to learners who live in Cumbernauld, Kilsyth, Kirkintilloch, Moodiesburn, Gartcosh, Muirhead - in fact, most areas located between Cumbernauld and the DSA Driving Test Centre (Bishopbriggs), close to Kirkintilloch.

Antonine Driving School teach safe and competent driving skills, and our training is structured to suit the needs of every person as an individual, no matter how many lessons they need, or what format is best suited to them. From individual driving lessons, and motorway lessons and practice to full Pass Plus courses , you'll find that Antonine Driving School has the expertise to get learner drivers from the Cumbernauld & the surrounding area licenced and on the road.
But our site's doesn't just have information about learning to drive. There's LOTS of information about driving in general, guidance to help increase your chances of passing your driving test , some sections about improving your driving, as well as advice on learning to drive, all easy-to-find using the Nav Bar .
So, this site will also be useful for you if you're:
So, if you've never driven before and want to begin learning to drive, or you're returning to driving lessons after a break, then please contact us.
We hope this site is of help to you, whether you've decided that you want to learn to drive and you're looking to find a reputable driving instructor, or you're looking for some hints and tips about sitting your UK theory or practical test.
Or even if you just want a bit of advice about driving, now that you've passed your test. This site is full of all sorts of driving advice, guidance and information. We hope you find it useful and enjoyable.
And please do visit us again.